Choosing The Right Electric Grill: What You Need To Know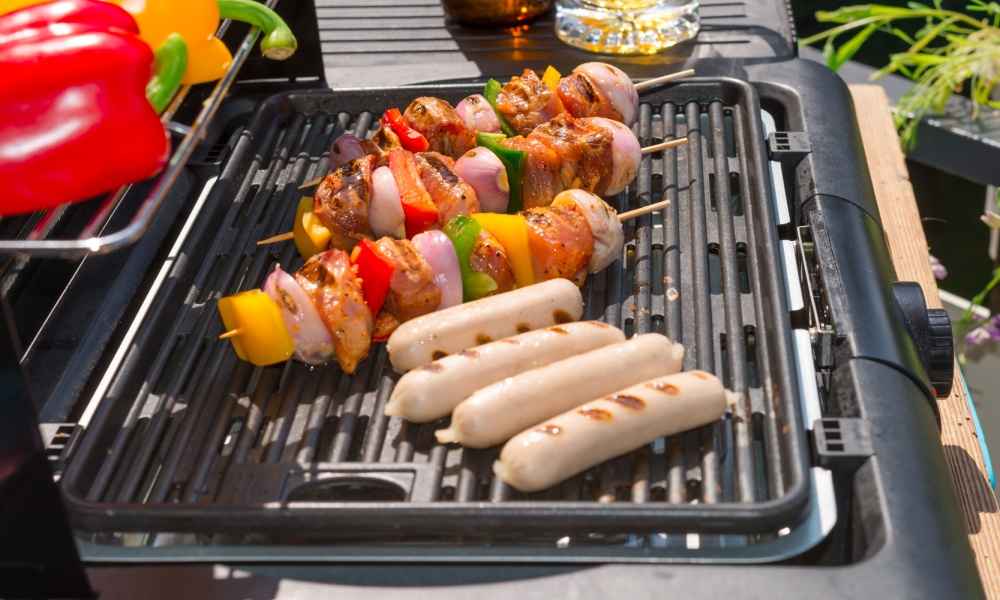 Grilling has always been a part of any occasion. Whether it is a steak, fish, or hamburger, no one seems to dislike eating freshly grilled meals. Who wouldn't want some barbecue on the beach? It is perfect for any season. You can even grill in the winter if you have an electric grill at home.
This type of grill is also a great alternative when you are out of charcoal or your landlord does not allow you to use a traditional grill for safety purposes. If you aren't sure about electric grills but are willing to try them, read on, because this article will give you enough reasons to love them.
First, you are going to learn about the differences between gas and electric grills. Then you are going to read some tips on finding the best electric grill that suits your preferences. To help you with your search, you can check out my recommendation products page to discover five of the best electric grills on the market today.
Electric Grills vs. Gas Grills
The difference between an electric and gas grill is more than the fuel source. There are other things that you need to consider in order to choose the best one between the two. Below are some of them:
Fuel Source
There are at least two types of gas grills that are still present today, gas-fueled grills and charcoal grills. These grills use either propane or charcoal as their source of heat to cook or grill food. On the other hand, electric grills use electricity as the main source of heat.
Most manufacturers create a heating technology to produce even heating throughout the cooking surface. Since they use electricity, they do not include a gas tank that may cause a leak. Therefore, they are safer to use indoors than gas grills.
Space Requirement
Electric grills are usually compact and lighter than gas grills. They do not produce so much smoke, which makes them ideal for people living in a small apartment or having a small patio. In other words, an electric grill does not require a large space. It could be placed on any sturdy table top.
However, a gas grill needs a large space for you to grill safely and with ease. That is why it is more applicable outdoors. Aside from this, you also have to be mindful where you place it. You should not grill near flammable materials to avoid fire or any kind of accidents.
Size or Capacity
Both grills come in different sizes. Electric grills fit on countertops and table tops, good enough for serving two to six people. Meanwhile, larger electric grills for outdoor patios can feed about 12 to 15 people at a time.
Small gas grills can handle single steaks or the same serving as small electric grills. However, industrial-sized restaurant grills are often gas-fueled, which can serve a hundred or more people at once.
Flavor
When it comes to authentic grill flavor, nothing can beat gas or charcoal grills. This is because of the smoke or aroma they naturally produce when grilling meat, fish, or vegetables. Many manufacturers are still trying hard to create electric grills that will cook food that tastes similarly to a real grill. Some people often add smoker wood chips onto the grilling plate to achieve an authentic aroma.
Ease of Use
Convenience and ease of use are the selling point of electric grills. Even though they obviously require proximity to an electric outlet, everything seems to be easy with this type of grill. Most of the brands today have a thermostat or timer so you can monitor your food quickly. Preheating the cooking surface is less of a hassle, too.
All you need to do is to plug it in and wait for the grill to heat to the right temperature. Gas grills, on the other hand, require extra effort when you start grilling. For example, users have to carefully fill the tank with propane or natural gas. That is even harder if you do not have enough propane to grill all the food you have to cook.
Heating
Gas grills still generate higher heat intensity than electric grills. However, maintaining it at low temperatures is hard. This makes an electric grill ideal because you can control the temperature most of the time. Re-heating the grill is much easier with the help of the temperature knobs or thermostat.
Plus, the heating elements of electric grills often produce even heat. The downside of this type of grill is that the heat is limited. You may not be able to reach more than 300 degrees Fahrenheit, which makes grilling thick red meat or searing impossible.
Maintenance
Keeping your grills clean is one of the best ways to extend their lives and keep them properly functioning. Electric grills are easier to clean because of the non-stick qualities most brands have. However, you still have to be careful with the wires. Gas grills are harder to clean because of charcoal or gas leaks.
What to Look for an Electric Grill
Temperature Gauge
Whether removable or built-in, this device is important. It tells you when the grill is ready to cook your meat or if it has reached the right temperature. Some brands simply have an on/off light indicator, which is also good.
Size
Of course, the size matters. If you are cooking for a small family, a small electric grill is enough. If you are cooking for a party, you might want something bigger like an electric grill for outdoor patios.
Adjustable thermostat
Whatever kind of food you are grilling, it is always good to cook at accurate temperatures. A thermostat that is adjustable will help you cook grilled sandwiches and sear steaks at the right temperature.
Removable cooking plates or grates
For easier cleaning, choose a model with removable cooking plates or grates with a non-stick feature.
Conclusion
Finding the best electric grill won't be that daunting if you know what you are looking for. That is why it is good to understand what electric grills can do as well as their limitations. Take note that no matter how good your electric grill is, it is still difficult to achieve the authentic grill flavor. If you are a serious fan of real grilled meat, then this type of grill is not for you.
However, the products listed above can give you a taste close enough to satisfy your palate. For durable and high-performing electric grills, you may want to choose among the first three items. Meanwhile, for affordable products, the last two electric grills will be good enough.