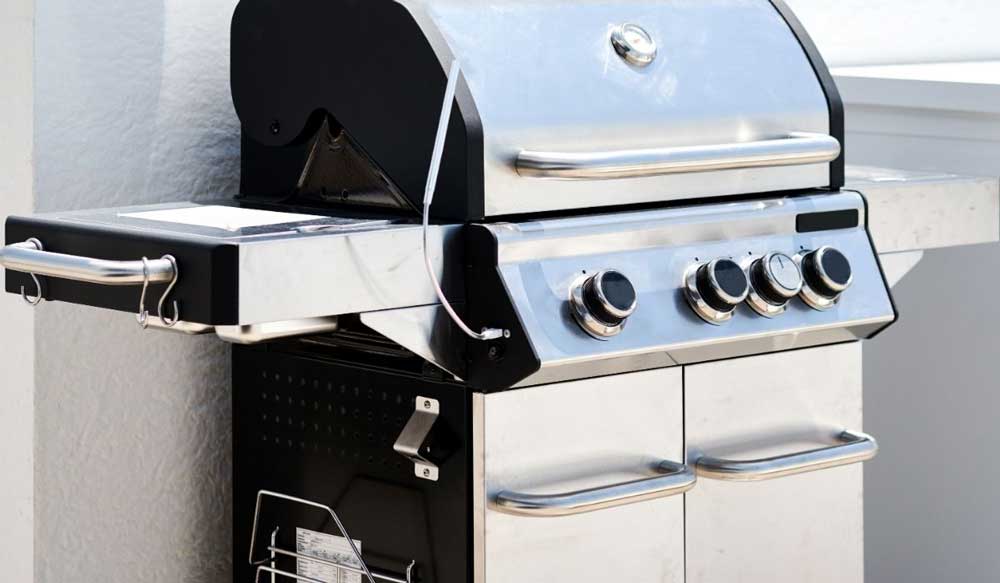 The Best Small Gas Grill of 2020
If you have been searching for the best small gas grill, look no further! Despite their size, you will find them to be as useful as the latest behemoths with appealing features.
Although ideally, people long for huge, built-in patios to host grand parties to show off their culinary expertise to friends and family, they won't be disappointed with a small gas grill. Why let the size of the grill stop you from doing what you please, especially when these small wonders are equally great in performance.
Finding the Best Small Gas Grill
A small gas grill doesn't mean you will have to compromise on any of the features that huge and fancy grills offer. The only reason people pick small grills is that they take up less space or because they are so portable. Neither of which means you must abandon your appetite and craving for grilled food.
Therefore, here we are enlisting the best small gas grills on the market that are top-end and ensure juicy grilled food every time. (Don't forget, grilled meals are more healthy!)
All these products have been researched to make it to our list of the best small gas grills. Let's get grilling!
It doesn't have to be a weekend or a holiday for you to enjoy the scrumptious, juicy delicacies that are grilled to perfection. With the Coleman stand-up grill you can enjoy barbeques every day, no matter where you are. The portable grill has two quick-fold legs and rugged wheels to carry it to with you easily whether you are camping or going on a road trip.
With the surprising 225 square inches of cooking space, you can amaze your friends on your next outdoor adventure together. It gives you more cooking options with the interchangeable grate that can be replaced by a griddle or stove burners. It pumps about 11000 BTS of power over two burners.
You can expect perfectly cooked meat with the two adjustable temperature options that give you more control while cooking. With the push-button ignition system, you are saved from buying a load of matchboxes and the mess they create.
The grill can also be stored in compact places as the collapsible structure doesn't take much of your storage space.

Pros
Pros
225 square inches of cooking space
11000 BTS of cooking power
Collapsible structure
Portable and easy to store
Cooks a variety of food
Cons
Cons
The wheels come off with excessive use
Loose latches
CHECK LATEST PRICE ON AMAZON.COM
The Coleman Roadtrip 285 is your best traveling partner that will serve you delicious meaty dishes and juicy vegetables whether you are on a mountain top or sunbathing on the beach. Even if you are at home, the grill fits in small places so that a small patio space doesn't deprive you of a great plate of food.
It is a reliable grill that withstands rough usage during traveling. The folding structure of the grill means you can store it easily in your car trunk or roll it on the wheels while you walk. The stainless steel structure doesn't rust or corrode. The removable grease tray enables quick and easy cleaning.
The large cooking space of 285 square inches beats the non-portable ones and is impressive given the slim profile it possesses. It has a cooking power of 20000 BTS that fuels three burners with a temperature range between 350-700 degrees. The matchless ignition provides instant heat with a push of a button.

Pros
Pros
Two side tables for placing utensils
Three adjustable burners
Easy cleaning with the removable grease tray
Sturdy construction
Cons
Cons
CHECK LATEST PRICE ON AMAZON.COM
The muscular Char-Broil grill not only helps you with space constraints but also with your wallet. It is an affordable option that, despite its size and cost, is a powerhouse grill. It has four legs, two of which lock to offer stability while cooking.
The 24000 BTUs of power fuels two burners that grill and roast food on 300 square inches of cooking space. You can toast your buns or bread separately on the additional 100 square inches of space, saving them from the sticky and oil remnants of meat.
The grates on the grill have a porcelain coating that makes cleaning effortless. With a nudge on the button, you get instant heat, saving you from keeping track of a matchbox that either slips away from your pockets or is never found when it is needed most.

Pros
Pros
Porcelain-coated cooking grates
Storage cabinet
Lid mounted temperature gauge
Removable grease pan
Two metal side shelves
Cons
Cons
Deeper grilling area cramps up food sometimes
Doesn't heat high enough
CHECK LATEST PRICE ON AMAZON.COM
The Master Cook small gas grill is another stunning option to satiate your grilling desires no matter the space. It is a sturdy grill that has a stainless steel control panel with a chromium-plated knob. The stainless steel handle and lid have a built-in thermometer giving you more control over the temperature.
The 30000 BTUs power three stainless steel burners that can prepare a rich and filling meal of your choice. It has an embedded piezoelectric ignition system controlled by pushing and turning a control knob.
The multifunction propane gas grill is a perfect outdoor cooking device that has a cooking space of 339 square inches and a separate warming space of 132.8 square inches. Master Cook has two foldable tables and two heavy-duty wheel casters that facilitate mobility and storage.

Pros
Pros
It has a large cooking space
Powers three burners
Budget-friendly
Can be stored in compact areas
Affordable
Cons
Cons
Shouldn't be used in overly windy conditions
CHECK LATEST PRICE ON AMAZON.COM
Guide to Best Small Gas Grill
Even when buying a great gas grill, you have to be mindful of all the features that you are wanting. There are a lot of factors and questions that pop into one's mind that have different answers for everyone. Nevertheless, to find a small gas grill that suits you, you must be aware of the following to make the right decision.
Size of the Grill
Perhaps one of the most important factors, the size of the grill is selected on the basis of the space you have (or will have while camping, etc.). Think through the safety factors when picking the right size for yourself. You will find gas grills come in many different sizes and styles, so do select a space where you plan to set it up and buy a grill that fits perfectly.
Cooking Space
Surprisingly, the size of the grill and the cooking space are not as interdependent as you might think. There are larger grills with smaller cooking areas and vice versa. When you are looking for a small grill, make sure the cooking area is somewhere between 200-500 square inches. Whether you travel or grill at home, keep the average number of people you are cooking for in your mind so that you have a better idea of the cooking space that will be needed
Affordability
Plan your budget range before heading to the market. Grills vary in prices, but you will be happy to know that there will definitely be one that will fall in your price range and meet your needs. Planning the budget ahead of purchasing will help you narrow down your choices and determine a reasonable grill for yourself.
Quality of the Grill
Small doesn't mean you have to go for any grill without bothering to check the quality. When it comes to buying a high-end grill, you have to consider storage, maintenance costs, cooking space, and durability to get the most out of the money you spend. The use of high-quality construction material is essential as you will want a grill that lasts years and not months.
Additional features
Some grills offer various extra features that you may want. Choosing the extra features depends on personal preference as much as the price. Always buy a grill that comes with additional features that suit your needs.
Conclusion
This guide has all the essential details that will help you buy the best small gas grill. Purchase something that works for you. Our top picks have been researched thoroughly, and they have proven to be true to their word. It's time you cook using the best compact grill!