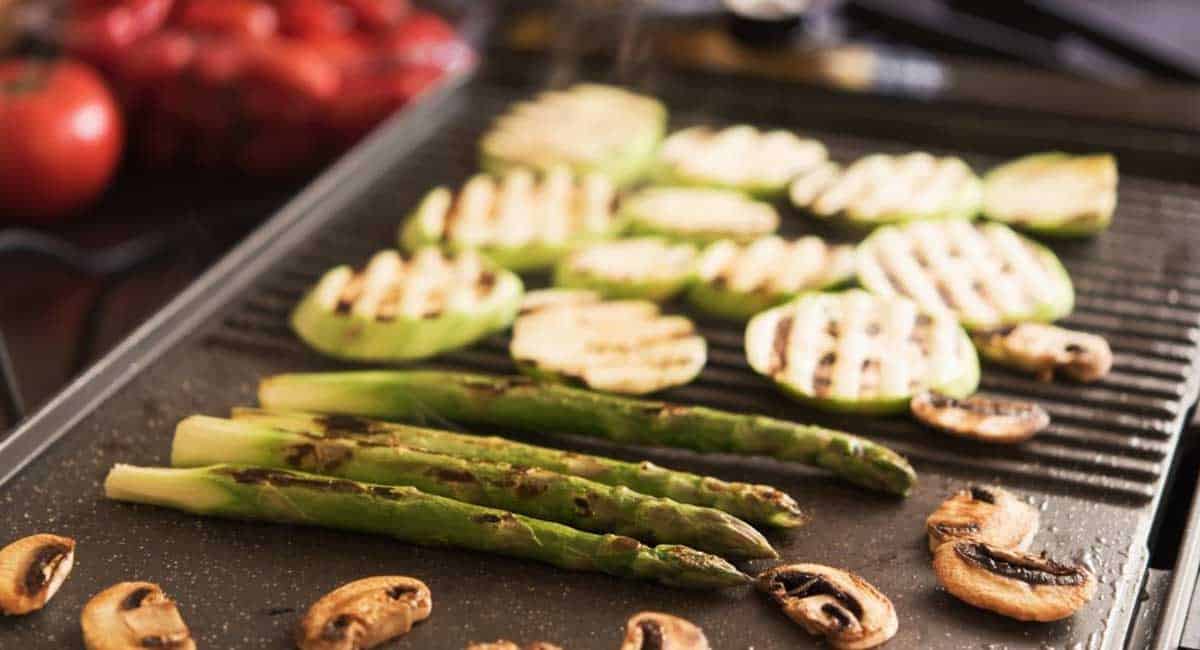 A Review of the Best Flat Top Grills Available Online
A family outing in the backyard or even a camping trip is incomplete without a good grill for your food. After all, how are you supposed to cook your burgers if you don't have quick and easy access to a reliable grill?
Flat top grills have become very popular over the last few years, considering their even and clean cooking, convenience, relative portability, and overall healthier method of cooking. More and more people are switching to flat top grills over traditional grills for these reasons.
There are hundreds of options to choose from when it comes to buying anything online today, and these are no exception. It might get very confusing to figure out which would be the best flat top grill for you, so we've put together a comprehensive buying guide for your benefit of finding the best flat top grill available online today.
Our Picks for the Best Flat Top Grill
The Royal Gourmet PD1301S is a great tool for someone looking to have a nice barbecue party in their backyard with a few close friends and family. With more than 300 square inches of cooking area, this flat top grill is a low height grill with just a few parts, making it portable and easy to use.
The griddle top is detachable for easy washing and cleaning, and a removable grease cup ensures that extra grease does not cause residue on the grill. This makes it fairly easy to keep the grill in good shape.
There are three separate burners on the grill that can be independently controlled for different heat levels on different parts of the grill, in case you're cooking a variety of items at the same time.
Specifications
Item weight – 34.3 pounds
Cooking area – 312 square inches
Burner material – Stainless steel
Burner output – 25,500 BTUs (8,500 x 3 burners)
Power source – Propane
Pros
Pros
Removable top makes it extremely easy to clean
Not too many complicated parts
Can be set up, dismantled, and transported easily
More than 300 inches of cooking area means that you can cook multiple items at once
Triple burner setup ensures even and consistent heat flow
Porcelain coating on the grill helps keep food juicy and taste well
Cons
Cons
Edges on the chrome pan are very sharp and can cause injury if not handled properly
Footings are made of plastic, so it might slide on smooth surfaces
CHECK LATEST PRICE ON AMAZON.COM
The Royal Gourmet PD1300 is the largest flat top on our list, with slightly over 325 square inches of cooking surface area. It also gives a burner output of 27,000 BTUs, which is again the highest on the list.
This flat top grill comes with three separate, independently controlled burners that can easily help you change the temperature throughout the surface, making it great for cooking different types of food on different sides of the grill.
Cleaning is an easy task for this grill as well, as it comes with a grease collection cup with a slight incline in the flat top. The oil automatically flows to the cup.
Specifications
Item weight – 30 pounds
Cooking area – 325.9 square inches
Burner material – Stainless steel
Burner output – 27,000 BTUs (9,000 x 3 burners)
Power source – Propane
Pros
Pros
Three independently controlled burners ensure even heating and is customizable for different types across the flat top
Large cooking area for simultaneously cooking more food
Porcelain covered top ensures easy cleaning and no residue
Grease cup to collect oil so that it doesn't flake and build up in the food
Cons
Cons
No low setting for burners, so the grill might get too hot, too quickly to properly cook items like pancakes
Grease tray can get really dirty and difficult to clean with long term use
CHECK LATEST PRICE ON AMAZON.COM
The Royal Gourmet P1301R is another iteration in their 1301 series, like the 1301S reviewed above. It comes with more than 300 square inches of cooking area, making it perfect for cooking for all members of your family or at a barbecue with close friends.
Covered in porcelain enamel, the flat top is non-sticky and lets food retain its juiciness, while the slight incline on the side lets the grease be collected in a tray. This tray can easily be removed and cleaned for repeated use and a healthier meal.
The grill is available in a dark red color, and has three burners similar to the 1301S grill. These burners are independently operable, but can sometimes cause inconsistent heating throughout the area of the grill if they're all set to the highest setting.
Specifications
Item weight – 34.9 pounds
Cooking area – 312 square inches
Burner material – Stainless steel
Burner output – 25,500 BTUs (8,500 x 3 burners)
Power source – Propane
Pros
Pros
Independent burners and Piezo Ignition system for ease of use
Availability of grease cup for healthier food and ease of cleaning
Porcelain enamel on the top ensures non-stick quality
Waterproof PVC coating included with the grill for protection
Cons
Cons
Cooking might be inconsistent in some places due to different burners and incline
Heavy and bulky, might not be the best fit for someone looking for something lighter and more portable
CHECK LATEST PRICE ON AMAZON.COM
The Royal Gourmet PD1202S is the smallest and the most portable grill on this list. With a length of just 17 inches, you can take this grill and prop it up anywhere to have a small party on a trip.
The porcelain enameled top ensures that the surface remains non-sticky, and 12,000 BTUs of burner output should let you cook the majority of common things like patties and hash browns on its surface. It also comes with a stainless steel tray for grease disposal. The tray has a decent capacity and does not need to be cleaned in one sitting.
The grill also comes with a provision for attaching a tiny 1lb propane tank to the side without a pipe, playing into its strength of being a truly portable machine for cooking and grilling on the go.
Specifications
Item weight – 23.5 pounds
Cooking area – 221 square inches
Burner material – Stainless steel
Burner output – 12,000 BTUs
Power source – Propane
Pros
Pros
Very lightweight and extremely portable, can easily fit in the trunk of your car and used for outdoor barbecues
Integrated Piezo ignitor for quick heating
Single burner system ensures uniform cooling through the length of the grill without any hot or cold spots
Cons
Cons
Not the hottest grill on the list
Small size might not be the best fit for everyone
Absence of multiple independent burners, so it can't be used for different items throughout the surface
CHECK LATEST PRICE ON AMAZON.COM
Buyer's Guide
If you're in the market for a flat top grill for your specific needs, it can get difficult to choose from the overwhelming number of options present. Though we outlined the pros and cons of each grill, it could still be possible that you are not entirely sure about which one's the right option for you. For your benefit, we have curated this buyer's guide based on which grills are suitable for you based on their best features.
Portability – If you're looking for something portable and lightweight that you can just take along with you in your car every time you go on a family trip or an outing with the boys, the Royal Gourmet PD1202S is the grill for you.
Size – If you host barbecue parties in your backyard every weekend and have a lot of people over, you need a larger grill for your needs. In this case, the Royal Gourmet PD1300 could be the right choice for you.
Versatility – If you're torn somewhere between the two options above, and you want something that can serve you in both these aspects with only a few tradeoffs, the Royal Gourmet PD1301S and the Royal Gourmet PD1301R are both excellent choices for your needs.
Bottom Line
Every once in a while, you need to take a break from work, sit back, and enjoy some time off with your friends and family. These are the moments when you connect better with them and make memories that you can cherish for years to come.
A good flat top grill is an essential part of an outdoor barbecue. With a couple of beers and burgers, your experience can be greatly heightened. In this article, we have reviewed some great flat top grills you can order online today, and we hope that it has helped you make the right choice for your needs. If you're looking for something different, please feel free to browse through some of our other articles as well. Happy barbecuing!